Meet the Ford Bronco in
Bedford

,

VA

Few cars reach such a legendary status as the Ford Bronco, and the legend is back to win over even more drivers. The Bronco got its start as a 4x4 in the mid-1960s and later evolved into a more truck-like vehicle and finally an early Sports Utility Vehicle before it was discontinued in the mid-1990s.
The all-new Bronco is a 4x4 SUV that's ready to take on its fiercest competitors and hit all of Virginia's toughest off-road trails. If you're ready to learn more about the Ford Bronco, feel free to reach out to us at Berglund Ford of Bedford. Our team is up-to-date on all things Bronco and would love to chat with you about this new off-roading legend.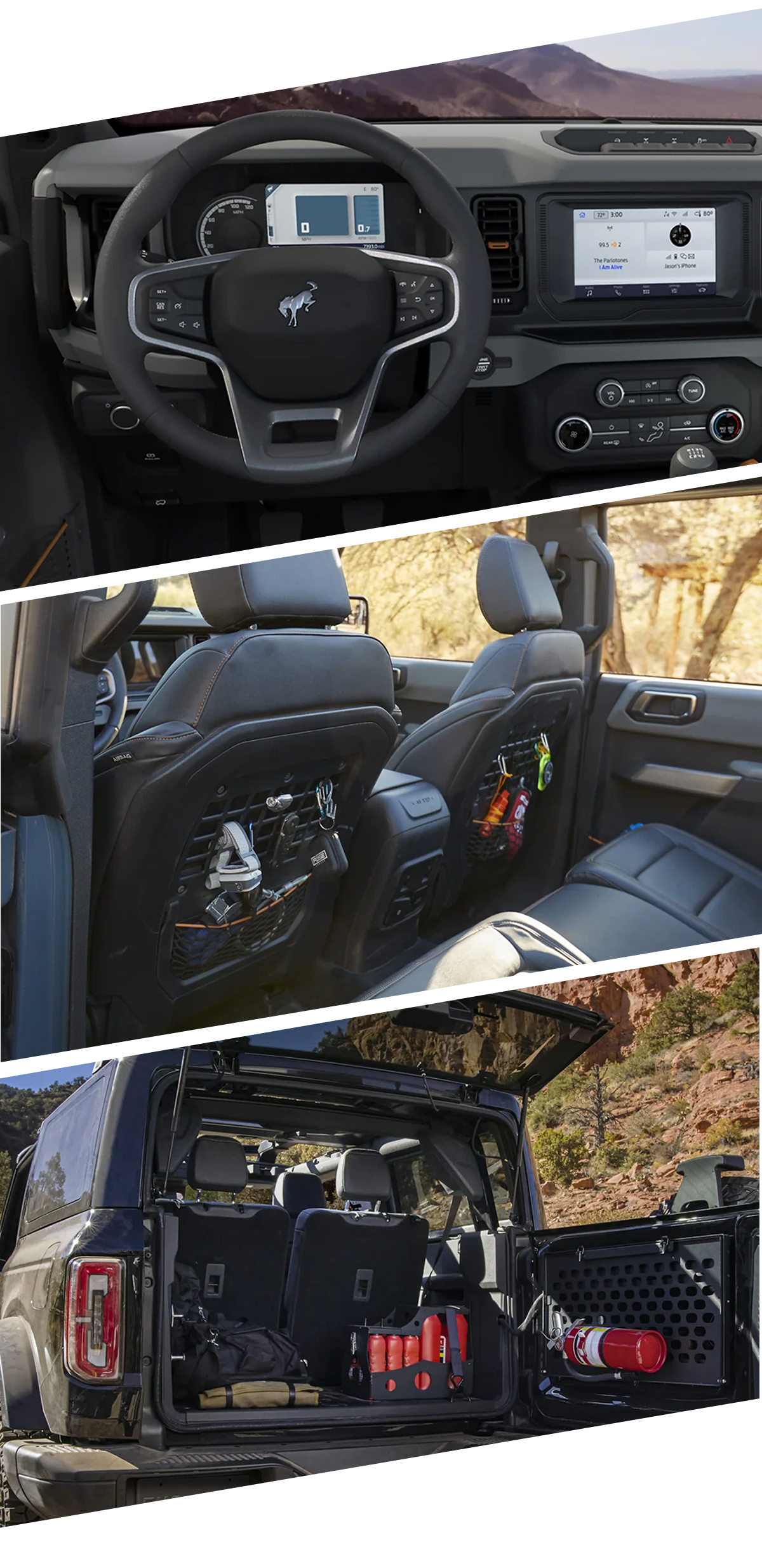 What's New in the 2023 Ford Bronco?
Ford doesn't get complacent or let its vehicles become stale. To achieve these objectives, the automaker regularly updates its models so you can get the most out of your vehicle. With the 2023 Ford Bronco, there are some intriguing changes to this year's version. For example, the new Bronco Heritage Edition is a new trim that hearkens back to the Bronco's 1960s look. It comes with a 2.3-liter turbocharged engine that puts out 300 horsepower. It has vintage exterior styling, including a white grille, white roof, and classic-looking wheels. Another variation of this new trim has metal Bronco-script fender badging and leather-trimmed plaid seats. There is also Heritage Limited badging on the center console.
History of the Ford Bronco
The original Ford Bronco roared onto the streets in 1966 ready to compete with other popular 4x4 vehicles. The first Bronco models were nothing to sneer at with a 92-inch wheelbase, coil springs, and a manual transmission with an available V8 for those wanting an extra boost of power.
The Bronco was quite the trail tackler as well as quite the racing machine with wins in the 1971 and 1972 Baja 1000. Bill Stroppe was the driver behind these wins, and Ford capitalized on the attention by creating a limited-edition Baja Bronco that was painted and equipped like Stroppe's custom model.
The Bronco has seen many forms over the years, but it never fails to be a capable driver on any road.
Why Buy From
Berglund Ford of Bedford
Here at Berglund Ford of Bedford, we take pride in offering some of the best customer service you'll find. We know that finding a new car can be a stressful process which is why we do everything we can to ensure that your shopping experience is easy and stress-free at our dealership. We make it easy to find an incredible Ford model for a great price here at Berglund Ford of Bedford.
When you're ready to take the next steps towards securing your dream Ford Bronco, contact us or visit our dealership at Berglund Ford of Bedford. We'll make the process easy and stress-free from start to finish!
Get Financing
Contact Us