Meet the Ford Bronco in
Bedford

,

VA

Few cars reach such a legendary status as the Ford Bronco, and the legend is back to win over even more drivers. The Bronco got its start as a 4x4 in the mid-1960s and later evolved into a more truck-like vehicle and finally an early Sports Utility Vehicle before it was discontinued in the mid-1990s.
The all-new Bronco is a 4x4 SUV that's ready to take on its fiercest competitors and hit all of Virginia's toughest off-road trails. If you're ready to learn more about the Ford Bronco, feel free to reach out to us at Berglund Ford of Bedford. Our team is up-to-date on all things Bronco and would love to chat with you about this new off-roading legend.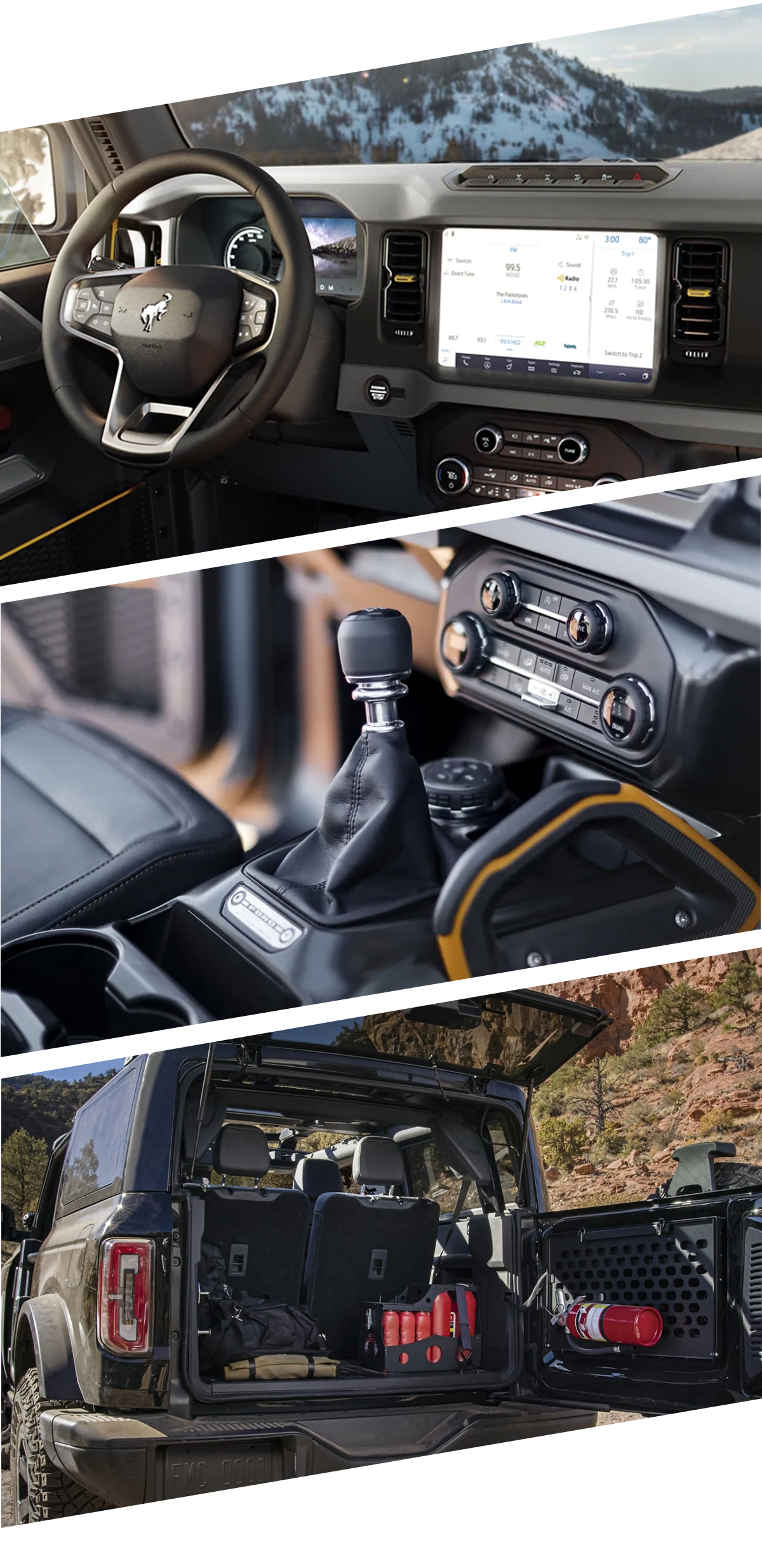 What's New in the 2022 Ford Bronco?
The Ford Bronco is an older off-road SUV model that re-debuted in 2021 after a hiatus since the mid-1990s. The new Ford Bronco is keenly modern, with an eye towards the past in terms of its removable panels, rugged-terrain driving, and boxy appearance. Still, the current (sixth) generation of Ford Bronco is invitingly sophisticated. The 2022 Ford Bronco comes with modern entertainment technology: a Sync 4 touchscreen and B&O speakers. It also has a sleek grille and headlights. The 2022 Bronco also has high-tech safety technology options and an app for monitoring off-road performance. It is a welcome reintroduction of a classic, and drivers should expect good things from the Ford Bronco for years to come.
History of the Ford Bronco
The original Ford Bronco roared onto the streets in 1966 ready to compete with other popular 4x4 vehicles. The first Bronco models were nothing to sneer at with a 92-inch wheelbase, coil springs, and a manual transmission with an available V8 for those wanting an extra boost of power.
The Bronco was quite the trail tackler as well as quite the racing machine with wins in the 1971 and 1972 Baja 1000. Bill Stroppe was the driver behind these wins, and Ford capitalized on the attention by creating a limited-edition Baja Bronco that was painted and equipped like Stroppe's custom model.
The Bronco has seen many forms over the years, but it never fails to be a capable driver on any road.
Why Buy From
Berglund Ford of Bedford
Here at Berglund Ford of Bedford, we take pride in offering some of the best customer service you'll find. We know that finding a new car can be a stressful process which is why we do everything we can to ensure that your shopping experience is easy and stress-free at our dealership. We make it easy to find an incredible Ford model for a great price here at Berglund Ford of Bedford.
When you're ready to take the next steps towards securing your dream Ford Bronco, contact us or visit our dealership at Berglund Ford of Bedford. We'll make the process easy and stress-free from start to finish!
Get Financing
Contact Us