Ford Explorer Buy Lease Offers in Bedford, VA
Choose Your Adventure in the Ford Explorer
In order to meet consumer demand, the Ford Explorer underwent somewhat of an identity shift. In the past, Explorer had been constructed as a traditional body on frame SUV. The market, however, began a gradual shift to a preference for crossovers and Ford smartly adapted the Explorer to meet this sentiment.
Does that mean that the Explorer has lost its rough and rugged SUV heritage? Absolutely not. You can still tame the backroads of Blue Ridge, Montvale, and Thaxton, VA when you drive the Explorer. After all, it's got four-wheel drive capability along with a long list of other off-road related features.
What's it also got is a serious comfort and convenience factor for those who want to use it as an everyday driver. It can be a difficult task to balance off-road prowess and on-road comfort in a crossover, but Ford engineers have done an admirable job with the Explorer.
This three row crossover also has wealth of cutting edge technology options. Its infotainment system is intuitive and offers a ton of fun and functional features. There's also a comprehensive suite of advanced driver assistance features available on the Explorer.
Performance. Ruggedness. Convenience. Comfort.
Ford has combined all these elements into an impressive three row crossover/SUV in the Explorer. We recommend heading down to Berglund Ford of Bedford to take a test drive to find out if the Explorer is a good fit for you
Our Bedford, VA Ford dealership offers a variety of special offers on the complete line of new Ford vehicles including the Explorer. Whether it's a special apr, factory rebate, low lease, or deep discount, we'll make sure that you get a great deal on the new Ford Explorer you want.
You can shop all our inventory online, or in person at our Ford store located in Bedford, VA.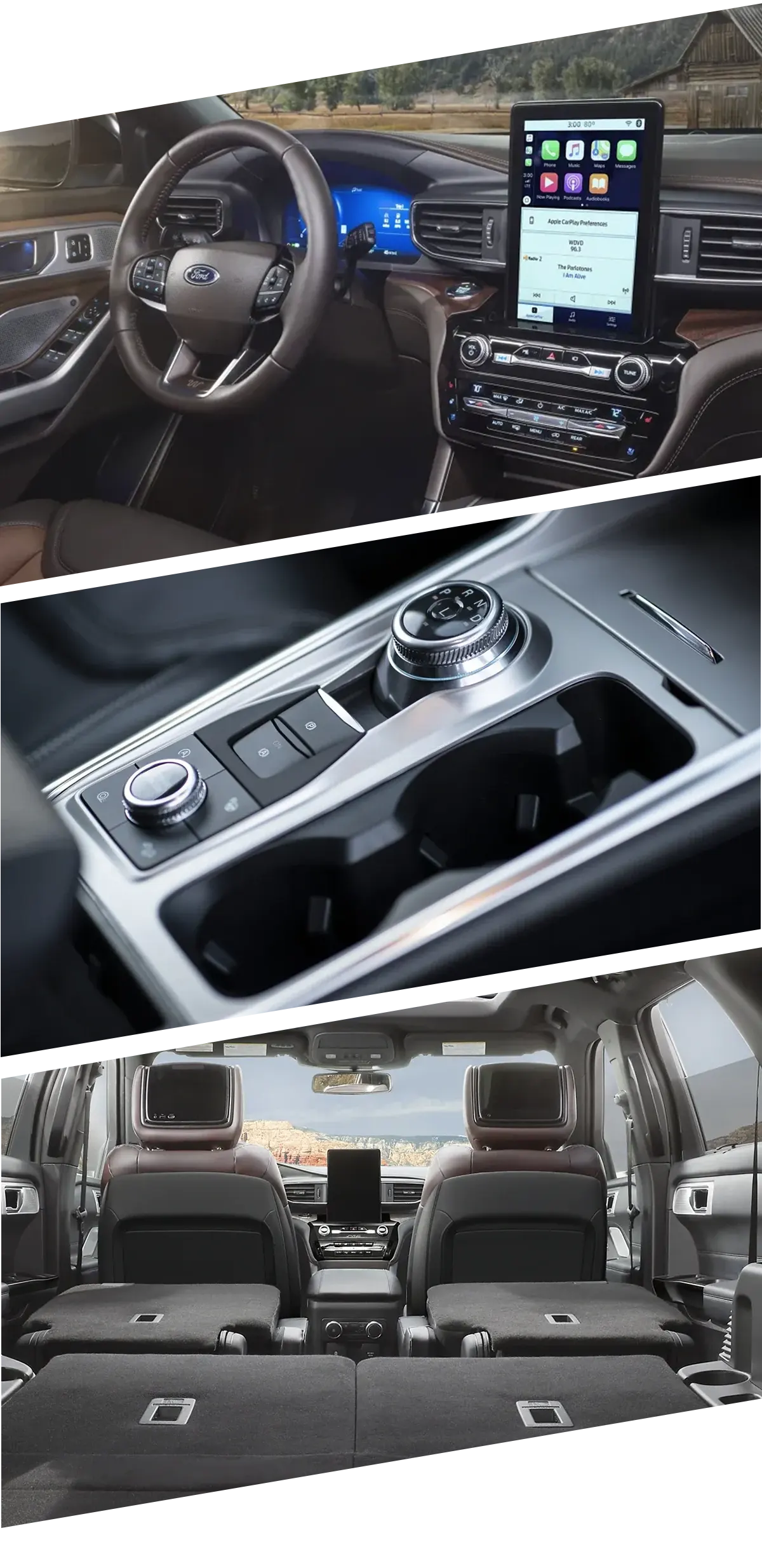 What's New In The 2023 Ford Explorer?
The new Ford Explorer is a midsize SUV that offers the best mix of creature comforts, space, power, and tech. It is a little pricey, but it is a perfect example of "you get what you paid for." The 2023 model year is a mid-cycle refresh that enhances the great qualities of its predecessor to deliver a higher level of performance. The exterior design is neater yet just as imposing and still bears the 'Built Ford Tough' mantra of the automaker. Like all Fords, the cabin is spacious and comes with high-tech amenities and equipment. It has a large touch-screen display with Apple CarPlay®, Android Auto™, Wi-Fi hotspot capability, and Bluetooth® streaming. There is no shortage of power, whichever Explorer you get, with three engine options to suit your needs and budget.
Historical Highlights of the Ford Explorer
The Explorer made its debut in the North American market for the 1991 model year. It served as the replacement for the long-running Bronco II model.
For the 2001 model year, Ford added an open bed pickup box version of the Explorer known as the Sport Trac.
In 2011, in response to consumer preference shifts, Ford made the decision to drastically redesign the Explorer. The factory shifted construction of the Explorer from a truck based frame to a unibody frame. This transformed the Explorer into more of a true crossover vehicle.
This shift helped increase sales of the Explorer and positioned it as one of the best midsized crossover options available on the market.
Why Pick Berglund Ford of Bedford?
Our Bedford, VA Ford dealership will not only give you a great deal on a Ford Explorer, you'll also save money on our large selection of pre-owned vehicles. We offer used imports, as well as domestics, plus Ford certified vehicles for auto shoppers in Virginia. You can count on getting a great deal no matter what kind of vehicle you want along with a superior customer service experience at Berglund Ford of Bedford
We invite you to come see all our new and pre-owned inventory in person at our dealership located in Bedford, VA.