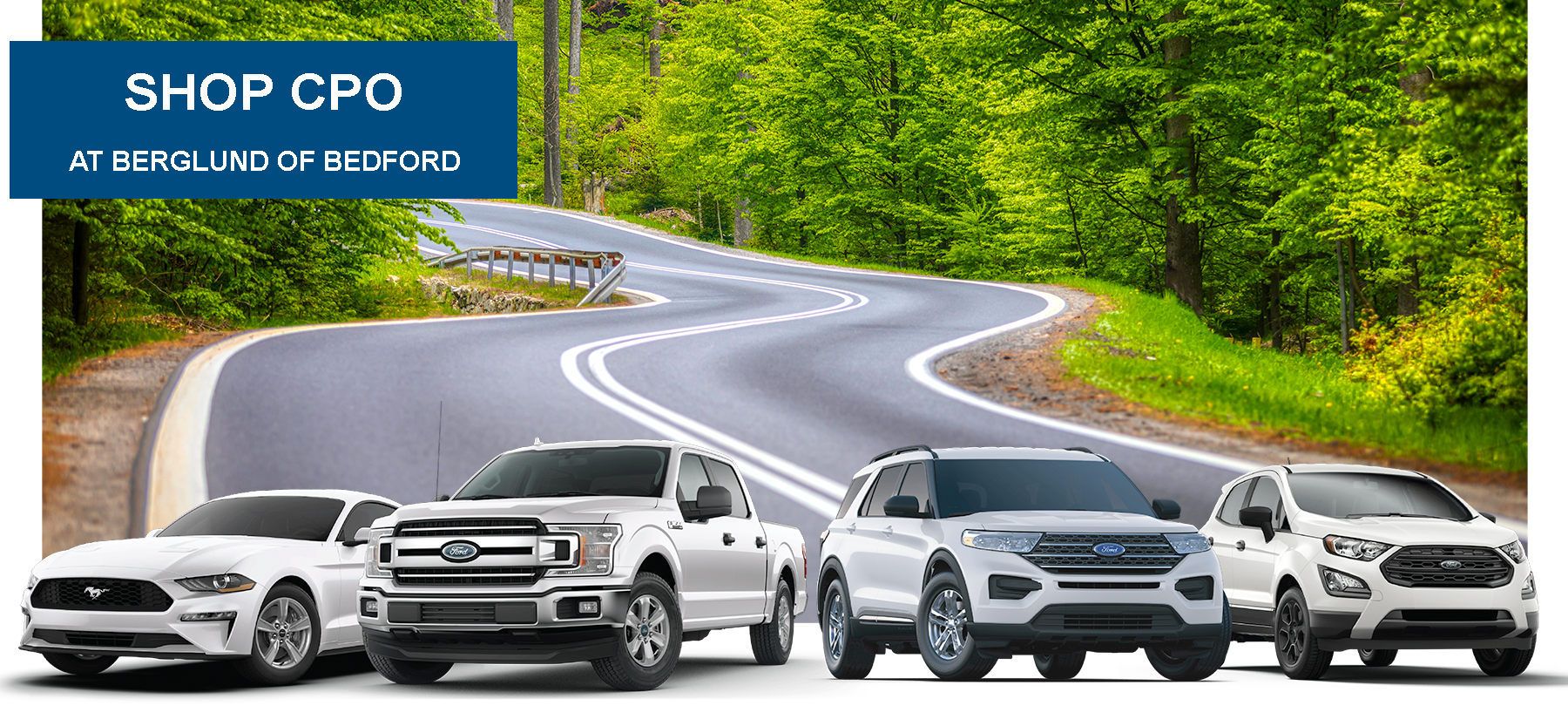 Certified Pre-owned Cars in Bedford, VA
You don't have to be an expert on cars to realize the pros and cons of buying and driving used vehicles. If being behind the wheel of a pre-owned model concerns you, recognize that not all used vehicles are falling apart or have triple digits in the mileage department. When you shop at Berglund of Bedford, you can take advantage of the CPO Ford program. This gives you access to low-mileage, reliable used cars. The selection here is large, too, so you can pick the vehicle that best meets your needs and preferences. 
Perhaps the first aspect of owning a pre-owned vehicle that intrigues you is paying less for the vehicle. Pre-owned cars also hold their value better. There's a good chance if you sell your used vehicle a few years later that you'll get what you paid for it. There are even more reasons to choose CPO cars in Bedford, VA, at Berglund of Bedford. Every pre-owned model must undergo and pass a comprehensive inspection to verify that the vehicle is ready to drive. This gives you peace of mind that your vehicle runs well and can meet the challenges on the road. 
Vehicles in the Ford CPO program have two levels: Gold Certified and Blue Certified. Gold-Certified vehicles must have fewer than 80,000 miles and be six or fewer years old. The inspection to pass it off is a 172-point in-depth examination. Furthermore, Blue-Certified vehicles have less than 120,000 miles and aren't more than 10 years old. CPO Ford SUVs, cars, and trucks in this category have passed a 139-point inspection.
You may ask, "Are CPO cars near me a good choice?" As you understand the benefits and advantages of buying pre-owned cars, trucks, and SUVs from Berglund of Bedford, you will see why these vehicles make sense to purchase. The multipoint inspections are rigorous and carefully test all essential areas of the vehicle. A trained, certified mechanic will ensure that the engine, transmission, suspension, heating and cooling, brakes, electrical system, and exhaust system work properly. The technician will also look for dents, scratches, and other defects with the body. Moreover, this inspection will include a thorough look at the interior, including the quality of the upholstery. Before putting the vehicle on the lot as CPO trucks, cars, or SUVs for sale, the mechanic will fix any issues that the inspection identifies.  
Find Your Next Certified Pre-owned Vehicle at Berglund of Bedford
It should now be clear why the CPO Ford program makes sense for you. Let the team at Berglund of Bedford in Bedford, VA, show you the inventory of available vehicles and answer any questions you may have. The associates are well-trained and will help you purchase a vehicle you want and need. Plus, you will love the selection and the number of quality vehicles available. Visit today and bring home a quality pre-owned vehicle.