Ford F-150 Buy Lease Offers in Bedford, VA
Ford F-150: Simply The Best Full-Size Truck in Virginia
You see it all over the Blue Ridge and Thaxton, VA areas. The F-150 has become the "go-to" full-size truck for Virginians from all walks of life. It serves a variety of purposes and is equally at home on the work site, or being used an everyday transportation option.
What makes the Ford F-150 great?
There's so much to cover. Many F-150 owners would claim that it's the truck's long lasting quality that makes it a winner in their books. There are countless tales of F-150 trucks being passed down from fathers to sons and the mileage on them eclipsing the 200K mark. That's a sure sign of a truck that's built to last.
Perhaps it's also the durability and capability of the F-150. It's the preferred work truck for those in the construction and farming industry based on what we've seen in the Bedford area. F-150 performs all the tough jobs and makes it look easy when doing so.
There's also the fact that Ford's F-150 truck is a great option for basic transportation from the home or office. You can equip the truck to near luxury levels when you opt for one of the upper level trims in the lineup. Ford also stocks the F-150 with all the latest technology features including driver assistance options.
What makes right now the best time to get your Ford F-150?
That's an easy question to answer. Berglund Ford of Bedford currently has some of the strongest offers and savings in our history available on the F-150. We have a tremendous selection of F-150 body styles, trims, and exterior color options to choose from.
Our Bedford, VA Ford store also has purchase and lease specials available on the F-150 that are incredible!
Want proof? Just head down to Berglund Ford of Bedford and let one of our associates know you are looking to save big money on an F-150. They'll take care of all your needs and answer any questions you might have. You will definitely get our best deal on a new or used F-150 no matter what week or day of the month you shop.
We invite you to come see us today at Berglund Ford of Bedford located at Bedford, VA 24523.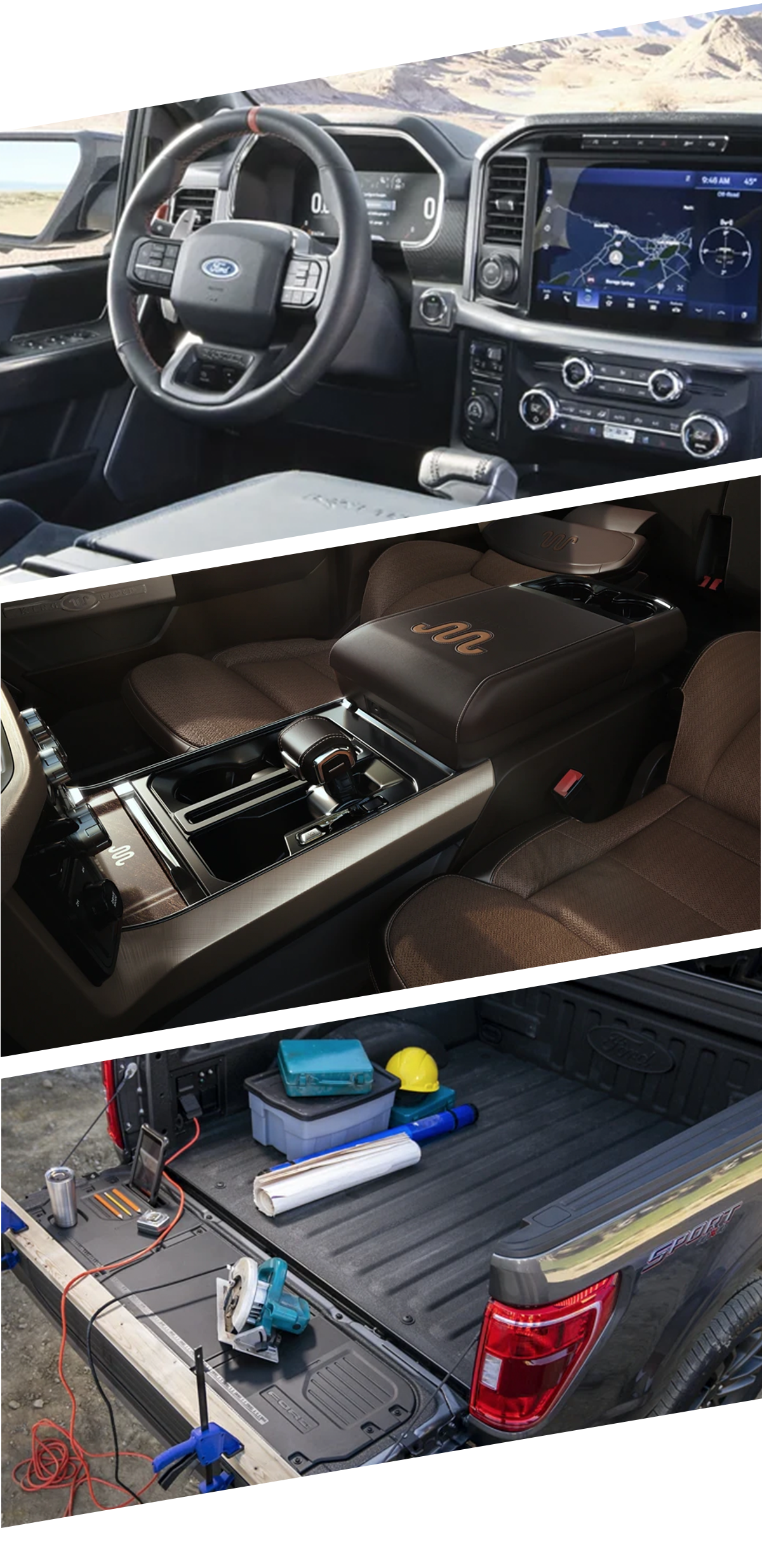 What's New on the 2022 Ford F-150?
As yet another Ford 150-model rolls off the production line, you can expect some changes and exciting news. The most significant update to the 2022 Ford F-150 is the addition of the Lighting. This model is the F-150's first-ever all-electric truck. It has a range of 300 miles and also comes with some backup power to take you even farther. This truck comes with two engines and an impressive amount of torque. There are some other differences to be aware of. The Raptor R trim now has a V8 engine and 37-inch tires, both upgrades from previous models.
A Glimpse into the F-150's Past
The history of the F-150 dates back to 1948 with Ford's production of the F-Series line of trucks. The original F-Series trucks were offered in F-1, F-2, and F-3 models. These were designations for half ton, three quarter ton, and heavy duty trucks.
While the F-Series trucks were primarily utilized for work purposes, over the next years Ford began to see growing consumer demand for retail versions of their F-Series models. In light of this, the factory began changing up the exterior of the F-Series in order to appeal to a broader audience.
The F-150 would finally make its debut in 1971. It was an immediate hit and Ford would add the iconic blue oval to the F-150 over ten years later in 1982.
The F-150 has long reigned as the one of the best-selling full size trucks on the market and shows no signs of a slowdown in sales momentum anytime in the future.
Why Choose Berglund Ford of Bedford?
The F-150 is one of our most popular models, so we always have a great selection in stock and on sale at our Ford dealership located at 1425 Boxwood Terrace Bedford, VA 24523.You can trust Berglund Ford of Bedford to give you an amazing F-150 deal whether you are in the market to purchase or lease.